Patriots or Traitors? The Leaking of Secret
U.S. War Plans to the British in 1812
By Robert Henderson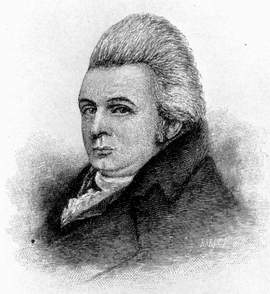 Royall Tyler, Chief Justice of Vermont's Supreme Court and a playwright.
An 1809 work of his was entitled "A Yanky in London". The theatre of
the University of Vermont is named after him. Tyler is implicated in this matter.
Patriotism is a matter of perspective. If you believe a course of action is harmful to your country and you act against that direction, are you not being Patriotic? Unfortunately patriotism appears more to be a measurement of support for the ultimate outcome. Take, for example, the American Revolution. A large percentage of the population was loyal to the crown but they were on the losing side. These loyalists were branded as "Tories" by the American revolutionaries and were forced from their native land. Had Britain won the war, would they have been hailed as patriots?
In the case of Francis Duclos, he had luckily picked the right side. Born in Versailles, France, Duclos had only immigrated to New Jersey a year before the revolution broke out in 1775. Duclos joined as an Ensign in Col. Maxwell's Battalion and by February 1776 was on his way to support American positions in Canada: "The late repulse at Quebeck requires every exertion of the friends of American freedom."[1] His first experience in Montreal was a cold one, with Duclos having to expropriate himself of a couple of blankets.[2] At his first battle in Trois-Rivieres, Duclos fell prisoner to the British along with hundreds of his fellow soldiers, and George Washington noted him released 'on parole' in early 1777. After his official exchange, Duclos saw memorable service throughout the rest of the war, both on land and at sea. Wounded twice and captured again, Duclos was a bonafide American war hero.[3]
By the beginning of the 19th century Duclos was living in Seldon, Vermont near the Canadian-US border. Being bilingual, Duclos seems to have had social and business dealings in Lower Canada before war broke out. Strangely, it was through him, that secret intelligence on U.S. war preparations was passed on to British officials. But how did Duclos get access to such sensitive material?
While the governing Republicans pushed for war in Washington, the Federalists worked to normalize relations with Great Britain and saw a conflict with the British as dangerous. It appears Judge Janes of St. Albans, VT, collected information for Duclos from a network of high ranking Federalists who were opposed to the looming war.
This list included: "the Chief Justice and democratic justices of Vermont and such others who had a constant communication with the United States government."[4] Was this a conspiracy of treason by Federalists against the United States? Or was this an attempt to overt a war they felt would destroy their country? While Federalists were against the war, it is important to point out this political espionage was being conducted prior to the declaration of war in June, 1812.
The intelligence passed on by Duclos was shockingly accurate. Considering it was only January 10, 1812 it was clear the United States government was already planning exactly how it would "drive the English off the continent of America." Duclos rightly warned that "a cloud hung over the continent which would probably burst." However he thought Great Britain could avoid war if they:
1. revoked her orders in council (economic sanctions)

2. revoked her blockading orders

3. gave up all impressed American seamen in the her Navy

4. renounced the right of search of U.S. vessels
Without taking those four actions, Duclos expected the Canadian provinces would be invaded.
Duclos also offered details on how Canada would be attacked, namely three armies invading from Detroit, Lake Champlain, and the rout used by Benedict Arnold in 1775 from Boston to Quebec City. Two out of the three invasion did transpire.
The Federalists offered even intelligence on how the American army was being mustered, suggesting it would be filled "chiefly of Irishmen and other foreigners". British officials were also informed: "that the American Govt had written to the Commissaries at Springfield who had written to the Commissary at Burlington to know how provisions could be provided for an Army of 80,000 men, volunteers and regulars..." Duclos even offered a Vermont target for a preemptive strike: "if provisions should be collected, Burlington would probably be the Depot, where they might easily be destroyed by a small force."
As the last piece of juicy intelligence, Duclos pointed out a small number of Americans living in Lower Canada whom he "suspected to be dissatisfied characters."[5] Whether this was a settling of old scores, or the fingering of actual U.S. Government operatives is unknown.
It was clear from his suggestion of military action against his own country, that Duclos had crossed the line, and had thrown his lot in with the British. Moving to Swanton, Duclos supplied the British Army with smuggled cattle and other goods from Vermont throughout the war. In February 1814 he was instrumental in warning people in Caldwell's Manor, Lower Canada of an impending raid by American forces.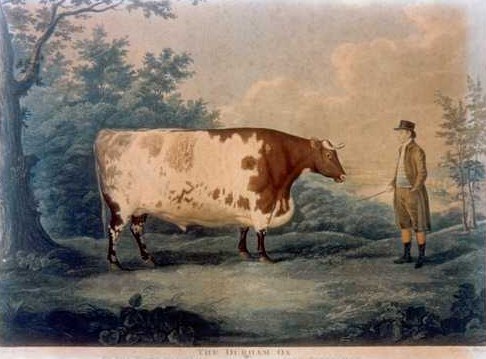 Durham Ox, 1802 (J. Boultbee)
By the end of 1814 Duclos had two circuit court indictments against him, in Rutland and Windsor respectively, for smuggling. In May 1815 was thrown in prison for two weeks and heavily fined. In addition U.S. custom patrols had seized from him 35 heads of "fat cattle" and a number of barrels of mess pork from him. Destitute, Duclos moved to Montreal and petitioned the British officials for support for his loyalty to the British cause. Eventually he returned to Seldon, Vermont and passed away at the age of 89 in 1844.[6]
From Duclos's actions on behalf of some Federalists before the war, it is clear the British were well aware of how serious the threat of war was, and how the Americans would possibly conduct themselves militarily in such a conflict. However the question remains whether the dealings of the Federalists were out of patriotism or an act of treason.
---
Copyright Access Heritage Inc (formerly The Discriminating General) 2011


Copyright: Unless otherwise noted, all information, images, data contained within this website is protected by copyright under international law. Any unauthorized use of material contained here is strictly forbidden. All rights reserved.
.